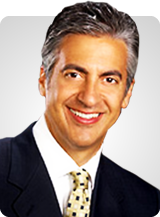 When Dr. David Hazzouri, DMD opened his office in 1995, he made sure it was cozy and comfortable. And put his personal touch on everything. Because he knows how people fear the dentist. And he's not someone you should fear. He takes his time to develop a personal relationship with each and every patient. And does everything from simple cleaning to solving complex problems.
What's more, Dr. David Hazzouri is committed to tailoring a dental plan that fits your budget and makes you proud to smile. Using the latest technology and techniques, and backed by dual graduate certification from the University of Pennsylvania in prosthodontics (cosmetic dentistry, crowns, bridges) and periodontics (implant dentistry), Dr. David Hazzouri is a true specialist at pleasing his patients.
For more information about cosmetic dentistry and how David Hazzouri Dental can make a difference in your life, contact Dr. David for a personal dental assessment.